رزومه مهندس محمودی
نام و نام خانوادگی: نامی محمودی
محل تولد: خوی
تاریخ تولد: 06 / 07 / 1351
مدرک تحصیلی: کارشناسی، برق قدرت، دانشگاه تبریز – کارشناسی ارشد، برق قدرت، علوم تحقیقات البرز
professional experiences in summary:
Test, Fault Diagnosis, Condition Monitoring, repairing and drying out of Power and distribution Transformers and medium voltage cables.
Transformers installation and commissioning
OLTC Diagnostic, service and overhaul and replacement.
HV Bushings (OIP, RIP and RBP) life assessment and diagnostic, retrofit and replacement.
Modern Life Assessment Techniques such as: FRA, FDS, GC and PD.
Employment Backgrounds:
Oct.2000- Nov. 2011: Iran Transfo Company, Zanjan, Iran during these years, I was working at the following categories in Iran Transfo. 
Power Transformer Design Engineer at Technical Office
Power Transformers Test Engineer at the High-Voltage Laboratory
Head of repairing workshop of distribution and power transformers in ITASS (Iran Transfo After Sales Services Co.)
Head of Service and Overhaul department of On Load Tap Changers (OLTC) in ITASS
Head of test and diagnostics of Power Transformers in ITASS
Test, commissioning, diagnostics, repairing and supervising of more than hundred Transformers on different projects in Iran and overseas (like as: 2003 and 2008 in Syria, 2004and 2006 in Pakistan, 2007 in Afghanistan, 2009 in Kenya and 2010 in north and south of Iraq)
Training presentation for service, maintenance and operation of distribution and power transformers and OLTC for many companies and customers.
Trainings courses
November 2001, completed course on repair and maintenance of capacitor Bushings in TrenchCo., St-Louis, French
September 2004, High voltage and short circuit Lab., Islamabad, Pakistan
July 2005, KEMA laboratory, Arnhem, Netherlands
August 2006, Diagnostic Measurement on Power Transformers, OMICRON, Austria
January 2007 for two weeks, training course for service and overhaul of MR on load tap changers, Regensburg, Germany
January 2007, the practice courses of "Vacuum degassing and dissolved gas analysis of transformer oils: principles, practices and procedures" Energy Support, Germany
June 2009, participation in the HIGH VOLT tutorial on High Voltage Test and Measuring Techniques by Dr.W.Hauschild, Tehran
April 2010 for two weeks, Training course of MR OLTC Maintenance, Regensburg, Germany
November 2010, Diagnostics Measurement on Power Transformers such as PD, FRA and DIRANA, OMICRON, Austria
High voltage Lab. Skills as a Test Engineering:
Factory testing of power transformers and reactors.
Fault localization by PD and SI.
Expert and interested to fault detection and diagnosing of power transformers
Useful experiences with S&P institute and High Volt Company during calibration of high voltage lab. Equipment.
Consult for High voltage lab establishing.
Some important projects in practically:
Fault detection and repair of a 125 MVA-230/63/20 KV:
due to generation of combustible gasses in oil, the problem found on extra core grounding and the problem solved by special trick by applying the new circuit for core grounding.
Fault detection and repair of a Step up transformer 200 MVA-230/15.75 KV:
due to generation of combustible gasses in oil, the problem found on extra core grounding and after draining oil, the problem solved by removing the one piece of metal between core edge and tank that fallen from Tank wall.
Investigation of a damaged and exploded three high voltage bushings type OTF 1550 units from2008 to 2010 in a power plant substation.
Overhaul and service of more than 30 OLTC units including MR (type V, MS and M), ABB and Trafo-Union products.
Retrofit of 18 units of ELIN's OLTC due to protection relay actuation during normal operation when the load of Transformers increased to rated power.
Special knowledge and experience in diagnosing transformer problems according to their logic operation and substation protection relays report.
Valuable experiences for diagnosing and assessment of acetylene (C2H2) gas generation on three200 MVA & 400 KV transformers.
FRA measurement of many power transformers that met jerk during transportation, fault
Fault detection of a 125 MVA-230/63 KV power transformer through FRA measurement: at them iddle phase an extra grounding terminal of core earth screen was detected and disconnected.
Moisture measurement through FDS, PDC and DIRANA (omicron) instruments for many cases(such as wet, repaired, new and dried transformers.)
Case studies for generation of ethane (C2H6) in new transformers such as a 160 MVA and 2*32MVA that leaded to high dissipation factor and low insulation resistances.
On site fault detection, repairing, and final testing of a 30MVA-132/20kV in Afghanistan-Herat (The fault was found on tap selector of the transformer)
Replacement and testing of all bushings and OLTC of a 30MVA-132/20KV transformer. The transformer was damaged due to an arcing in the middle phase.
Replacement and testing of 2* 30MVA-63/20 KV transformer OLTCs.
Design review and correction of a steel company power distribution system. Two 145 MVA-230/33 KV New Transformers (step down) damaged on June and July of 2011 when the steel company was on commissioning at high humidity area:
Equipment's that located between step down and EAF transformers were investigated, including Arrester, Cables, SVC, VCB and RC filter.
The RC filter and SVC circuits were corrected. The first unit transformer was repaired and all possible electrical tests such as FRA, FDS, dissipation factor, insulation resistance, DC resistance, ratio and short circuit losses in variable frequencies were carried out. The transformer was over stressed and energized with a source voltage of 110% of its rated voltage. After that the system is in operation satisfactory.
Fault finding of 3 unit HV Bushings by FDS and GC (TCG=127000 ppm) before Exploding!
Medium cables terminations fault finding and Generators bars HV testing.
More different experiences on all kind of transformers, and ancillary equipment's at work shop and site, that is impossible to explain here.
Publications
Firoozi, H., A., Kharezi. M., Mahmoudi, N.& Ghiyasi M.I. (2010). Frequency response analysis-low frequency Characteristics and Fault Diagnosis on Power Transformer. Paper presented at the International Conference on solid dielectrics, Potsdam, Germany
Language Proficiency
Persian (Native), Kurdish (Native), English (Good), Turkish (Good)
Hobbies:
Diagnostic, Fiction and Climbing,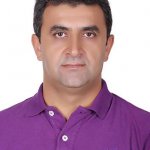 مهندس نامی محمودی